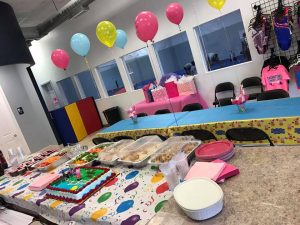 Celebrate with us!
Our birthday parties are personalized with your preferred activities, age group of guests, and are completely private! We do not overlap parties like many other facilities. Our staff and facilities are fully dedicated to your reservation!
Parties are 1 hour 30 minutes: 50 minutes gym activities, 40 minutes in our party room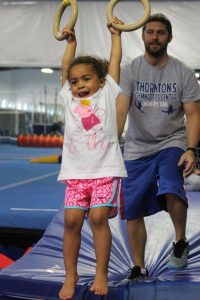 Flexible Booking Options
Parties are offered on Saturday afternoons
Gymnastics parties are available for children ages 4 – 12.
For safety reasons, children under the age of 3 will not be allowed to participate in gym activities.
For the safety of our guests and staff, adults are not permitted to participate in the gym activities.
Up to 10 guests – $280
11-15 guests – $330
16-20 guests – $360
21-25 guests – $425
# of guests refers to number of children participating in gym activities.
Max # is 25 guests to accommodate activity space & seating.
Price includes birthday child, coaches to lead activities & set-up/clean up your party, gym and party room facilities, & free class coupon for guests. Completed Bday Party Agreement and 50% deposit are required to secure party date/time. Party remainder must be paid in full within 1 week of party. *Cancellations within 1 week of party or sooner will receive 50% refund. Cancellations after the 1-week mark (or no-shows) are non refundable.
Parents provide refreshments, paper goods, preferred decor, and guests. All children will need a consent form completed by their parent/legal guardian prior to participation in gym activities. Ninja parties require tennis shoes.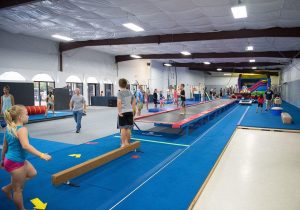 Relax & Enjoy!
Our staff is dedicated to making your child's party fun, organized, and worry-free for our guests and our parents! Feel free to drop off your decorations early so we may assist you setting up. Leave all of the clean up to us!